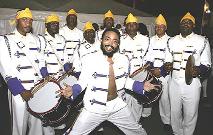 Die Kapelle um den nimmermüden Machel Montano hat wieder eine Metamorphose durchlaufen: Aus dem Xtatic Circus wurde die Xtatic Road Marching Band. Zu den Sängern Farmer Nappy, Peter C. Lewis, Fresh Life und Machel ist das T&T Regiment Drum Corps dazugestoßen. Bleiben sollen allerdings die Moko Jumbies und die Power Puff Girls.
Gegen den Bandnamen hat Iwer George opponiert. Die einzig Wahre Roadmarch Gruppe sei Invasion, die 2002 und 2003 mit Naya George und Fayann den Roadmarch Titel gewonnen hat.

Road Marching Band (article)
Marching to the sounds of Xtatik
Machel Montano and the eight Regiment drummers that make up his Road Marching Band.
By Laura Dowrich
Last year, Machel Montano reigned supreme as ringmaster of the Xtatik Circus. This year, in keeping with his plan to work within a theatrical theme, the soca star has donned a blue and white uniform as captain of the Xtatik Road Marching Band.
The band was unveiled last Friday at the National Flour Mills Soca by the Silos fete, complete with a drumline, moko jumbies and of course, Buttercup and Co — the ever popular and talented Power Puff girls. These girls, numbering three in all, perform eye-boggling feats with their waists and behinds that leave men salivating and women anything from scandalised to plain envious.

"With the marching band, I just wanted to keep the circus people involved. The moko jumbies, the girls, they represent aspects of Carnival, and I wanted to find a way to keep that aspect," an exhausted-looking Montano said, during a break in rehearsals the night before the marching band was launched.

In fact, he added, there are three components to the band's presentation this year: there is Xtatik — comprising himself, Nappy, Peter C, Fresh Life and eight others; an eight-piece drumline comprising members of the T&T Regiment Drum Corps; and the Extras, of which the girls are a part. Xtatik and the drum line make up the Xtatik Road Marching Band.

Those who saw the presentation on Friday night compared it to the 2002 movie Drumline, which starred actor Nick Cannon as a talented drummer who couldn't read music.

The movie gave some insight into the competitive world of marching bands in black American universities and the level of musicianship, choreography and flair that such bands encompass.

Montano said although working with the Regiment band was something he had wanted to do for about four years, the movie inspired him.
"When I saw Drumline came out first, I felt sad. I didn't have the resources to do it — but the movie really inspired me to go ahead.
"I decided to do a marching band with limbo dancers, mas, wining girls. The band will be a parallel to the parade on Monday and Tuesday with the craziness of Carnival," he said.

A release from Xtatik said that in addition to Drumline, Montano was also inspired by the Carnival experience which sees thousands of people peacefully marching on the streets for two days annually.
In studying the different cultural phenomena of Carnival and the marching bands, the release said, Montano thought it would be tremendously challenging to merge these two, very different, but somehow complementary musical formats.

Including the Regiment in his act is a strategic move for Montano, who said he likes to align anything he does to what is going on globally.
"Right now there is a strong military presence around the world… what is military to me is discipline. I say we should use the military philosophy in a positive light," said Montano, who was a member of the Scouts while at Presentation College, San Fernando.
"I want the youths to see us joining forces. We could use that power to promote love. We need to come out and say something positive against violence, against racism, against black people killing black people."

Asked if the Regiment drummers would be accompanying the band on tour, Montano said he was only "on tomorrow" and hadn't given the future any thought.

His marketing manager John Adamson said ideally the band would love to take the Regiment members with them out of Trinidad, if they could get the relevant approvals. He said the marching band concept has global appeal.
Patrons who attend any event featuring Xtatik will see the marching band on show, but Montano said at each performance something different will be added
Iwer pounds Machel over 'road march' tag
Quelle: T&T Guardian
Neil Iwer George has called on his fellow soca artiste Machel Montano to change the name of his band.
George said yesterday Montano was "disrupting" the value of the Road March title by calling his group the Road Marching band.
Montano said he had no comment, adding, "The only George I know is George Chambers."
The apparent feud between the two soca stars started on the wekend, when George sang about Montano in his latest release, "Take Off Your Jersey."

The defending Soca Monarch said the only band authorised to use the words "road march" was Invazion.
He said they could do so because they had the defending Road March champion Faye Ann Lyons and the 2002 winner Naya George in the band.
George said Montano was fully aware of the value attached to the Road March title, having won it himself in 1997 with "Big Truck."
"He had the Road March title in the past and he enjoyed it by himself, so he should allow others to enjoy theirs," George said.
"I think it is unfair to the rest of the artistes, because if Destra (Garcia) wins Road March, she would like to go outside as Road March queen and Atlantik as the Road March band.
"The same with Shurwayne Winchester: if he wins, he would like to be recognised as Road March king and his band, Traffik, as the Road March band."
George said Montano should rectify the situation by changing the name. He said he would give him time to do so.
"All I trying to do is to correct the brother. Other than that, we all right. Every now and again I have to pull him up," he said.